Yu Darvish's 2018 could hardly have gone any worse. Fresh off of signing a six-year, $126 million contract with the Cubs, he made just eight starts before triceps tendinitis and a stress reaction in his right elbow ended his season. The Cubs made the playoffs, but Darvish could only watch their maddening 13-inning loss to the Rockies and wonder what could have been.
When Darvish struggled to start 2019, the situation seemed to go from frustrating to dire. His first eight starts were horrendous, rife with walks and home runs. He had been one of the most exciting pitchers in all of baseball, all strikeouts and gadget pitches, a highlight waiting to happen. He'd been a thrilling rookie, a prized deadline acquisition, and a top-tier free agent. Was he now on the downswing of his career, adding expensive journeyman to his list of accomplishments?
As it turns out, he wasn't. As Devan Fink chronicled, Darvish turned his walk problems around, going from the pitcher with the most walks in baseball to the pitcher with the least. Since a disastrous outing in early May where he walked six Marlins, he's been the third-best pitcher in baseball by xFIP, fourth-best by strikeout rate, and in the top 15 in WAR. In the second half, he's been even better than that, combining a 37.2% strikeout rate with a 2.2% walk rate. His ERA, FIP, and xFIP are all in the mid-twos.
This fully actualized version of Darvish is what his flashes of brilliance through the years had always hinted at. The bottomless arsenal of pitches — he picked up Craig Kimbrel's knuckle curve in a week — made him a delight to watch, the strikeouts coming from every conceivable angle, fastball following cutter following curve. The Cubs were off to a hot start, 22-13 even after Darvish's disastrous turn against the Marlins, and now they were adding one of the best pitchers in baseball.
But while Darvish returned to form, the Cubs backslid. The team has gone 60-61 since that date, falling from the top of the division to nearly eliminated from postseason play. Darvish has made 23 starts in that time, and the team has gone 9-14 in those games. Wins and losses are no measure of pitcher quality, but Darvish has gone 4-5 over that timeframe. Even in the second half of the season, when Darvish went full supernova, the team was only 6-6 in his starts heading into this past Sunday.
That day came with a funereal aura for the Cubs. Their last home game of the year, and the last of organist Gary Pressy's 33-year tenure at Wrigley Field, had almost no playoff implications. The Cardinals had already dealt a convincing blow to the team; our playoff odds only gave the Cubs a 9.4% chance of reaching the postseason. Javier Báez and Anthony Rizzo were hobbled, making appearances but clearly playing through injury. Rain fell throughout the game, driving fans away and making players miserable, and Kris Bryant went down with an injury in the day's early stages.
And through it all, Darvish dealt. He was absolutely stellar through eight innings, striking out 12 without a walk, his third straight start of 12 or more strikeouts. His only blemish was a Paul DeJong home run, one of just four hits he allowed all day. The team clung to a one-run lead, their offense silenced nearly as much as St. Louis's had been.
Darvish hadn't thrown a pitch in the ninth inning since 2014, before his Tommy John surgery; he'd only gone as many as eight once this year. This day, though, he was out there. The Cubs bullpen had coughed up the lead each of the last three days. The relief corps had been strained all September; aside from Darvish's own starts (six and seven innings the two games before this one), the Cubs only had three games all month where the starter finished six innings, and all three were six exactly.
So Darvish shouldered the burden. He stood in to face Jose Martinez, and Martinez hit the second-hardest ball Darvish had allowed all day: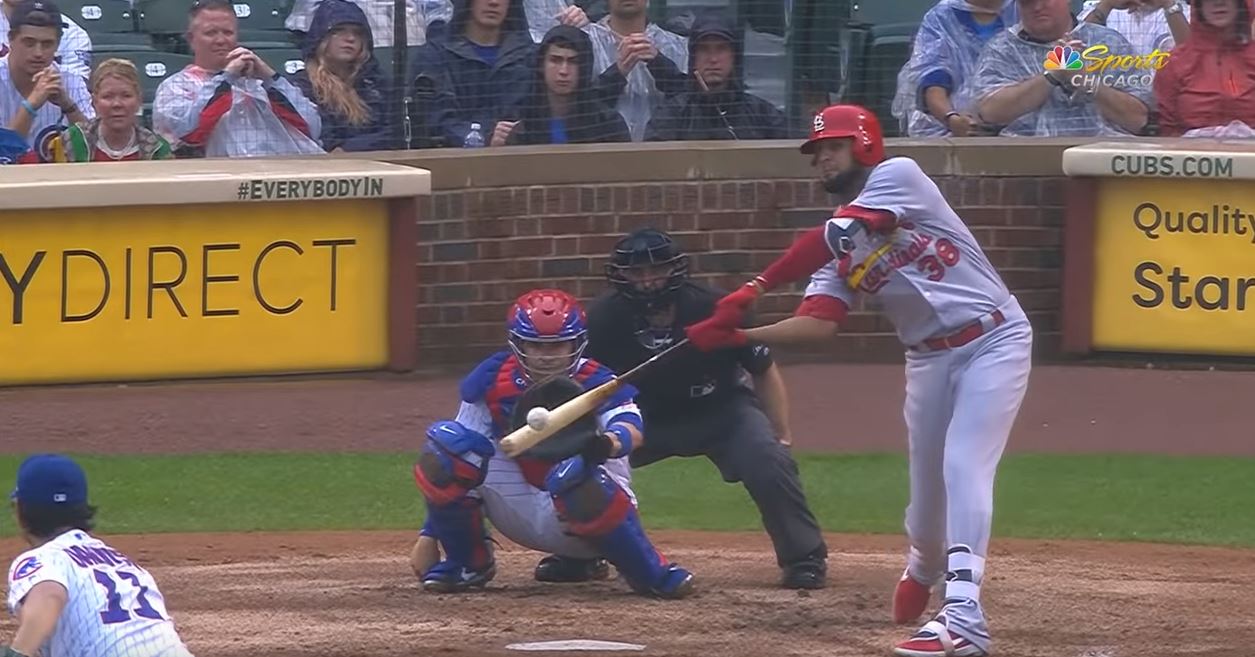 On a rainy afternoon, it stayed in the park. In fact, it traveled 386 feet and hung in the air for roughly five seconds. On another day, it might have been a hard-hit ball that found a glove. Sunday, though, was not the Cubs' day. Albert Almora Jr., into the game as a defensive replacement, misread the ball, breaking in rather than out with his first step, as you can see from my sketchy camerawork:
That tiny hesitation turned a makeable play into an incredibly difficult one, and the ball kicked off of Almora's glove and off the wall, giving the lumbering Martinez his first triple in more than two years.
From there, the result felt preordained. A sacrifice fly plated the tying run, a softly hit flare found right field, and a groundball off the bat of Paul Goldschmidt stayed fair down the third base line to put the Cardinals ahead for good. Darvish could only scream in frustration:
Afterward, Darvish trashed his locker. He called the loss the worst of his life, still visibly upset as he gave postgame interviews. In truth, Chicago's season was doomed before the game even started, but try telling that to the pitcher who spent three hours attempting to will his team to victory, even as it crumbled around him.
This season, Darvish faced the Cardinals, Chicago's longtime nemesis, four times. The team went 1-3 in those games; this being baseball, he had a 2.66 ERA in the losses and an 11.25 ERA in the victory. That futility is Darvish's season in miniature. He was great, unequivocally great, for months on end as the team labored to secure a playoff spot. He was the best pitcher on a team full of former All-Stars down the stretch, punching the clock while Kyle Hendricks struggled with injury and Jon Lester, José Quintana, and Cole Hamels scuffled.
In another universe, Sunday might have been Darvish's crowning moment. Somewhere, Almora caught Martinez's line drive and Edman's flare was hit ever so slightly differently, leading to a routine fly out. Somewhere, he went the full nine, and his magisterial complete game on the back of two Craig Kimbrel saves sank the Cardinals. Somewhere, Darvish's tremendous second half put the team on his back and led them to the playoffs, giving him another chance to exorcise the demons of 2017. But not here. Here, Darvish could only slam his cleats into his locker and brood.
Darvish has a chance to opt out of his contract after this year. He has $81 million remaining over four years, likely more than he would command on the open market as a 33-year-old starter, but stranger things have happened in the world of player contracts. My guess, though, is that he'll be back next year, regardless of what the financial situation is. This was supposed to be his shot at redemption, a season with Darvish still near his peak where he could take one more crack at the World Series.
Next year will have to do, because Darvish isn't getting any younger, and the Cubs' core isn't suddenly adding players out of nowhere. There's something deeply unfair about that reality, though, something I can't quite put my finger on. Yu Darvish, the man of a thousand pitches, should be pitching in meaningful games. He should be entertaining the masses, throwing a pitch he learned three days ago in pressure-packed spots in front of huge audiences. Instead, he's standing in the rain. We only get one universe in which to watch Darvish. Here's hoping next year presents us with a different one.